News
Welcome to Our New Website!
We are pleased to have you visit our updated website. Our goal is to provide you with the latest information about our instrumentation and chemical methods to meet your research needs. Please contact us with any questions regarding our products or website.
New Fe Publications:
Hansard, S, and W Landing. (2009) "Determination of iron (II) in acidified seawater samples by luminol chemiluminescence." Limnol. Oceanogr. Methods 7:222-234.
Roy, E. G., C. Jiang, M. et al. (2008). "Determining Subnanomolar Iron Concentrations in Oceanic Seawater Using a Siderophore-Modified Film Analyzed by Infrared Spectroscopy" Analytical Chemistry 80(12) 4689-4695
New Superoxide Publication:
Rose, A. L, J W Moffett, T D Waite. (2008). "Determination of Superoxide in Seawater Using 2-Methyl-6-(4-methoxyphenyl)-3,7- dihydroimidazo[1,2-a]pyrazin-3(7H)-one Chemiluminescence." Analytical Chemistry 80(4), 1215-1227
Waterville Analytical designs and builds flow injection analysis, FIA, instrumentation for the scientific community and industry. Current products use FIA with chemiluminescence detectors to measure Fe(II), Fe(III), Cr(III), Cu(II), Co(II), Hydrogen Peroxide and Superoxide in a range of aqueous media including seawater, fresh water, industrial process water, and atmospheric aerosols. Using an optional spectrophotometric detector, the FIA instrumentation may also be used for the analysis of nutrients in water. Long path length flow cells are available for enhanced sensitivity in spectrophotometric detection.
Investigators in over 15 countries are using Waterville Analytical instruments for both laboratory and field work. Our instruments have been used in the Arctic, Antarctic, Indian, Pacific and Atlantic oceans, the Mediterranean, Baltic, Tasman, and North Seas, and many lakes throughout the world. A few of the applications include, oceanographic iron enrichment experiments, the measurement of phosphorus and nitrates in lake water, and the analysis of high temperature boiler water as part of corrosion experiments. New chemical methods and applications for our instruments are being developed each year.
Waterville Analytical specializes in building custom instruments to meet the analytical requirements of individual researchers. We welcome your inquiries about the ways in which our products may meet your research needs.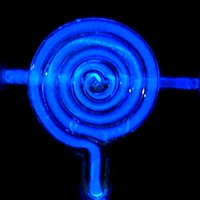 Chemiluminescence reaction of hydrogen peroxide with acridinum ester